The factions of The City often resolve their bitter conflicts with senseless bloodshed at the expense of innocents. What if they could settle their differences with a nice game of chess instead? This FM is a real, playable computer chess game, set in the Thief world with appropriate AI "pieces" in three different battle scenarios. The Fruit 2.1 chess engine determines the computer player's moves.
Scenarios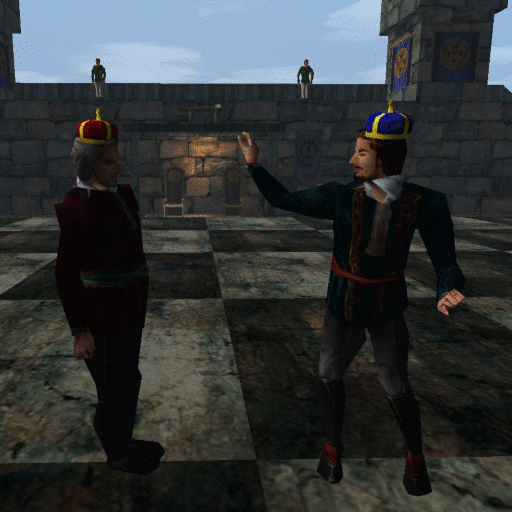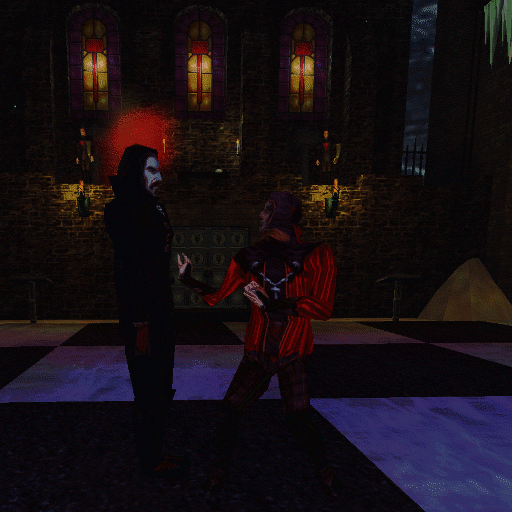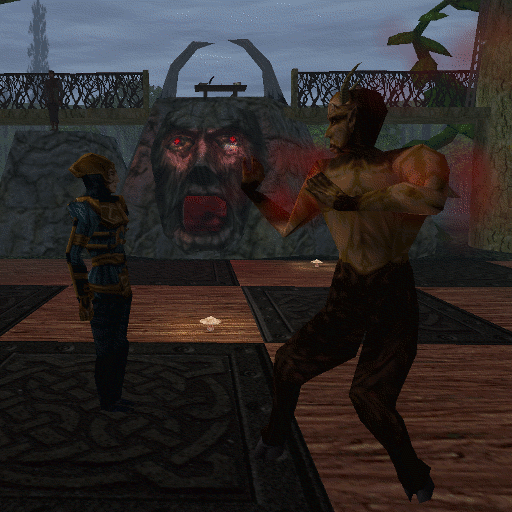 The City vs. Blackbrook

This is the final, decisive conflict of the two powers' long-running war, fought on a misty rural battlefield.

Hammerites vs. Undead

The Old Quarter is secure, but now the Order must retake another necromancy-infested temple on a snowy night.

Pagans vs. Mechanists

In this alternate history, Viktoria managed to resurrect Constantine, allowing the Pagans to hold their own against the Mechanists in their rainy forest home.
How to Play
Getting started

The difficulty levels of Easy, Normal, and Hard control the computer opponent's ability level. On Hard, a one-hour time control is also in effect.
In the small room, frob one of the gems to choose a scenario. The next mission will be the actual game.

Gameplay

Frob the gem above a "piece" (AI character) to select it.
Frob one of the different-colored gems that then appear to make a move.
The computer opponent will think briefly and then make its move.
Frob the logbook on the table to review the moves made so far.
Underpromotion is not supported. All pawns will promote to queens.

Endgames

Checkmate, stalemate, and dead positions will be announced automatically.
Frob the white flag on the table to resign the game.
Frob the gray flag (if present) to draw under the fifty-move rule.
On Hard difficulty, the clock on the table shows the time remaining.
Draws by agreement and by threefold repetition are not supported.
New to Chess?
If you have never played chess or don't quite know all the rules, this FM is a good place to start! Here are some tips:
The chess Wikibook is one of several good introductions to the game on the web.
Read the "Rules of Chess" book on the table in-game for a refresher on the key rules.
When it is your turn, the glowing diagram under each piece shows what directions it can move in.
If a diagram is gray, that piece can't make any move for this turn. On the first turn, only the pawns and knights can move.
Save your game often. Like in any FM, the opponents may surprise you and force you to change tactics, so have a backup!
The Details
Languages

This FM can be played in English, French, German, Italian, Russian, or Spanish.

Version

This is version 1.0, released on 2013-04-16 as latrunculi-1.0.zip.

Compatibility

This FM for Thief II: The Metal Age requires the unofficial NewDark patch (1.19 or higher). I recommend using Tafferpatcher to get everything set up.

Installation

As always, do not unzip this file. Put it in the appropriate directory and load it with FMSel or DarkLoader.

Known issues

Some pieces may take a few seconds before they start moving.
Ranged attackers (archers, spellcasters, etc.) may sometimes run up to their targets and "dance" around them as they fire.

Chess engines

If you would like to use a UCI-compliant chess engine other than Fruit 2.1, just replace the engine.ose file in the FM directory with that engine's program file. (Note that the FM has not been tested with any other engine.) You can also replace openings.bin with a different PolyGlot-format openings book if desired.

Construction

The FM was built from scratch over about a month's time. It includes various fan-made (see below) and self-made resources.

Legal jargon

Copyright © 2013 Kevin Daughtridge. You may distribute this level in any way as long as it remains unmodified and I am credited for it. Please contact me if you are interested in modifying it or reusing individual elements. (My custom scripts are licensed under the GPL; see below.) This level was not made and is not supported by Looking Glass Studios or Eidos Interactive.

Contact info

Kevin Daughtridge is kdau on TTLG and can be reached by email at <kevin AT kdau DOT com>.
Credits and Thanks
Like all FMs, this one owes its existence both to the rich world that Looking Glass created and to the amazing fan community that has been expanding that world for 14 years. And though it may not come in a form visible to players, the work of those who have documented the Dark Engine, patched its arcane innards, created tutorials and tools, and answered countless questions is invaluable. Thank you!
I especially thank my beta testers, Tannar, Notesthes, fibanocci, CMD, itllrun10s, Eiji, and Darklady, for playing a tournament's worth of chess games to make this mission its best. Thanks also to everyone at TTLG for their support and feedback, and to Shalebridge Cradle for hosting the beta testing process.
Thanks to the translators who made this mission accessible to as many players as possible: to Azaran for French, to Notesthes for German, to Smallman_647 for Italian, and to Soldi for Russian. (The Spanish translation is my own. Material in the "Rules of Chess" book is from the chess Wikibook or Wikipedia article in each language.)
Thanks to the voice actors who brought the heralds to life, grounding the scenarios in the Thief world: Phantasmagore as the Hammerite herald; Michael Myers (saxmeister) as the Pagan and Mechanist heralds; and Rob Strain (Random Taffer) as the heralds for The City, Blackbrook, and the undead.
Some earlier fan works helped to inspire this FM:
Kung Fu Gecko created a demo mission of Thief AIs making chess moves in 1999, though I have been unable to find a copy of it.
In 2003, fallen pallando, The Shroud, and others discussed possible Thief chess sets on TTLG.
SlyFoxx introduced chess to the fanon as a game played in-world in his fun little hotel FM The Auldale Chess Tournament in 2006. In deference to his claim on the filename chess.zip, I have used Latin word latrunculi ("pawns") for mine.
Thanks to these community members whose resources I have used:
My (very) custom script module is based in part on Public Scripts by Tom N. Harris (Telliamed) and includes lightly modified versions of his lg, DH2, and ScriptLib libraries, which derive in part from earlier work by GayleSaver and Totality. Both his and my script source code are available under the GNU General Public License. His code is available at his website; mine is included in this archive.
Pagan book and various sky, terrain, metal, stone, and wood textures by Alun Bestor (Vigil).
Wall candle, 10-foot fence, and Bafford-style throne by Robin Collier (R Soul).
Resources from DromEd Deluxe (DEDX), edited by Rob Hicks, including:

Resources ported from Thief: The Dark Project/Thief Gold, including some modified by Daemonite.
Necromancer, succubus, and "dryad"/Viktoria by Rob Hicks, including voices by YcatX and AWang.
Revised version of the Trickster by Rob Hicks and Jeff Knez (Schwaa).
Red and blue crowns by Schwaa.

Forest background, clouds, moon, and stars from t2skies by Jere Leppänen (Jermi).
Chess table (of course!), inkwell, lantern, leaf plant, lectern, and improved spellcaster motions by Nameless Voice.
Various improved models and textures from the Thief Enhancement Pack, organized by Nameless Voice and featuring the work of numerous modellers and texture artists (see its credits).
Bloodstains and torches by Jason Otto (Ottoj55).
Mountain background by Ville Paavolainen (Wille).
Snowy gravestones by Russ Robbins (Yandros).
Hammerite AIs (including robot), banners, and book from the Hammerite Mission Development Kit (HMDK), organized by Yandros, including resources ported from TDP/TG (see its credits).
Motions and expanded motion database by Randy Sybel (Shadowspawn).
Terrain textures from NTEX by thief_gotcha.
Fire particle bitmaps and improved water by Renzo Thönen (Eshaktaar).
Improved ladders from CoSaS Release Pack 3 by Yametha, organized by Daniel E. Todd (Digital Nightfall).
Hammerite door from CoSaS Release Pack 11 by Redleaf, Saturnine, CRC, and Digital Nightfall.
Gems from CoSaS Release Pack 21 by Eshaktaar and Digital Nightfall.
Materials newly introduced to Thief for this FM include:
The chess engine (computer player) is Fruit 2.1 by Fabien Letouzey, available under the GPL. Its source code is also included in this archive. See the README file in that directory for more details.
The "Rules of Chess" textbook contains text and images from the Wikibooks and Wikipedia articles on chess for various languages, available under CC-BY-SA 3.0.
Traditional chess piece models derived from those used by glChess, available under the GPL.
On-screen messages are displayed in DejaVu Serif.
Knights Templar playing chess, ca. 1283. Illustration in Alfonso X's Castilian translation of Libro de los Juegos.
Alfil, ca. 1482. Illustration in Publicius' Ars Oratoria.
Johann Petrejus. "Perspektive von Bögen", 1547. In Walther Hermann Ryff's Architectur.
Starting setup in chess, 1916. Illustration in the Nordisk familjebok encyclopedia, volume 24.
White flag waving, 2010. Vector graphic by Viktorvoigt, Dove et al. on Wikimedia Commons (CC-BY-SA 3.0).
Medieval Fanfare.aiff, 2006. Sound by tobyk on freesound.org (CC-BY 3.0).
20071104.forest.04.binaural.mp3, 2007. Sound by dobroide on freesound.org (CC-BY 3.0).
Sandyrb Native Flute 01, 2009. Sound pack by sandyrb on freesound.org (CC-BY 3.0).
hardcore creepy.mp3, 2010. Sound by Michael Carrier (HF2010) on freesound.org (CC Sampling+ 1.0).
02362 fanfare announce a.wav, 2011. Sound by Robinhood76 on freesound.org (CC-BY-NC 3.0).